---
7/24/2018 - We created a new facebook page for our Homestead called Three Springs Homestead. Our renovations are lagging due to my continued absence from the Homestead, we have almost finished the chicken house we have just one final push to complete it hopefully be mid august so we can get started on repairs and painting of the House. We lost one of our chickens "Pecky" a few months ago, we think a snake bit her and got her bleeding and then the flock finished her off before we realized what was happening. We have 2 new additions to our chicken flock, Alpha and Cutie Pie, we had a broody hen so we got some fertile eggs from a local breeder and put them under her. Two hatched and now she is very protective of them and a very Proud mother of 2.
1/15/2018 - Three Springs Hostel has closed, we have been struggling with this decision for quite some time. We cannot build the infrastructor and conduct repairs while we are open to the public. Shuttle service on the AT from Daleville to Waynesboro has been interupted due to someone involving DMV Virginia and they are now requireing Heavy Insurance and and fees making it impossible to continue shuttling at a reasonable rate.
| | |
| --- | --- |
| 8/21/2017 - We aquired the chipper. Chicken house is slowly comming around, we have the 4 corner posts in with 2 more to go, then we can get the roof on, frame the walls and add the wire to keep the chickens safe and then we can start cleaning up the woods by chipping anything 5" in diameter or less. Still need a plan for our Coop to get the chickens out of the weather. Everything is going so much slower than I would like due to weather and my being out of town, but things are being checked off the list. | |
June - Chickens are now in the Greenhouse at night and out on the lawn during the day.
| | |
| --- | --- |
| 5/28/2017 - The Greenhouse is up an operational, We will have to add an inside chicken area in the greenhouse for the chickens until their "Fort Nox" is ready to receive them. The garden is starting to look good and the First corner pole has been erected on the Chicken yard. | |
3/25/2017 - We have the pit dug, working on getting the Chipper so we can fill the pit with wood chips from all the debris in our woods. The new greenhouse is almost completed, putting on the roof this weekend, then we have to finish leveling the ground inside, putting chicken wire all around the base one foot into the ground to keep out the burrowing critters and then put the plastic roofing all around. The chicken yard and house will need to be completed in the next 6 weeks, We get our new day old chicks in 3 weeks then raise them 3 weeks inside and introduce them to our dog Suzzy and make sure she knows not to eat them. Suzzy will guard the chickens during the day we will be adding fencing around the chicken area for her to roam inside and keep out any undersirables. At night Suzzy will be inside with us and the chickens will be tucked away inside their coop. Things are really starting to come together and it's starting to feel like a farm, We have starter seedlings sprouting now that it's getting warmer.
2/15/2017 - The unseasonably warm weather has us out digging our pit for the chicken run. The pit will be 2 ft deep and contain chipped wood from all the ground clutter in the woods, vegtable matter (Grass, weeds, garden debree, etc...) We have the pit almost done and we are looking forward to building the structure to house the chicks over the next few weeks. The new greenhouse is comming along, delayed by weather and the new pit.
2/1/2017 - We are currently closed for Repairs and Upgrades through the 2017 Season at this time. Some of the repairs needed....Hostel Shower will change from a handicap shower to a normal shower which will give more room inside, the current shower is too restricive. We are building a new permanent greenhouse and a structure to house the chickens we are adding this year. Most of the outside siding needs replaced, 2 windows will become sliding doors, we are adding a new window and upgrading some old windows to be better insulated. We have several windows whose Sills are decayed and will require structural upgrades to the walls. Upgrading the Kitchen and Creating a new space for the hostel kitchen. We will be adding a new structure for storing wood we gather.
---
11/11/2016 - SOBO Season is almost over for us here at Three Springs, We close November 15th 2016. This season was slow as we didn't see very many SOBO's here on the farm. We close with some remorse as we will not be open for the 2017 NOBO Season. We will be concentrating our time and effor on repairs that we could not get done during the summer. We may be adding chickens and a dog to our farm next year and we have a lot of work to prepare for their arrival. Unfortunately due to time constraints we will not be providing any services to the 2017 NOBO Season and will post information here on our progress as we go along.
07/04/2016 - NOBO Season has ended and we are officially closed for the summer for much needed repair work. We are still available for mail drops and resupply as supplies last for those hikers that are still comming through during july and august.
04/22/2016 - It is almost that time of year when we start planting our garden, the green house has been repaired and we have some tomatoes started.
04/01/2016 - We are officially open for the 2016 hiking season!
11/17/2015 - It's that time of year, thanksgiving is just 9 days away and as we pull up our skirts and close our doors in anticipation of a long winter nap, our year end closing will be this weekend. Of course we will hardly be napping this winter as we have quite a lot of projects to get finished before spring of 2016 and the first NOBO's start arriving. We say happy hiking to all you NOBO's, SOBO's, Sectioners, Weekenders and Day Hikers out there that have passed our way and wish you all happy holidays, good luck with the trail and the all your days and be as awesome as you have shown us that you are.
10/05/2015 - It's been a busy summer here, we are now into the SOBO season as they wind their way across Virginia. This season was kicked off with Hurricane Joaquin making a right turn out into the ocean giving us little more that a shower, It did however decide to Shred the plastic on our Greenhouse before leaving the area. On the flip side water is now in abundance on the trail, and our 3 springs are running at full capacity. Our trees are really starting to show their color as fall rapidly approaches. We have an abundance of Black Walnuts to process for next years crop. I cracked half of last year's crop in August and am now trying to perfect a Black Walnut Fudge recipe, oh so delicious.

During the summer while walking through the woods I came across some hatched eggs in a bowl shaped recession, This can only be the young from the Snapping turles in the pond. There were about 10 eggs in the nest. We saw the snappers two adults throughout the summer as they sun bathed on the rocks where they seem to be living. We have been fortunate to be visited by two eight point bucks throughout the summer, comming in to munch on the apples I knock down from our apple tree. It is now Bow/Crossbow hunting season so get out your orange hikers and be safe on the trail.
05/08/2015 - NOBO's started later this year, the AT conservancy called for hikers to delay their start do to severe weather conditions. The first ones started showing up here at Three Springs at the end of March, everyone that has come by so far says the bubble is just behind them, but I suspect they will be delayed for Trail Days in Damascus which is the 15th thru the 17th of May.

The turtle was seen around 5/13 this year, I wonder if this is a yearly ritual as we only saw it last year in May, as it turns out it is a Snapping Turtle about the size of a large dinner plate and it's head was easily as big as my wrist and not something I'd like to tangle with. I've been setting fence posts and excavating a hillside to put in a driveway and I hit water everywhere about 21 inches down, I think we have an underground river that is seeping up causing the ground to be saturated all the time. The flow is very steady seeping from the walls of my hillside. At the end of May the water table has lowered 7 inches since May 1st. The water is starting to dry up so keep those bottles filled when you can find a good source.
---
12/02/2014 - We had 6 inches of snow fall this past Wednesday due to a nor'easter that came up the coast. You could hear the sounds of snapping branches as the snow accumulation became too much for some of our older trees. For some strange reason I have yet to ponder we have been having a considerable amount of crawdads getting themselves stuck in the intake pipe of our water system. Our water is spring fed and we have a pipe with 1/2 inch holes drilled in it. The water is sucked into the pipe from the spring and flows into the cistern where it waits to be pumped into the house. These crawdads keep getting their tails and claws sucked into the 1/2 inch holes which cuts off our water supply. As this is our first year we have often seen things for the first time and this one takes the cake. You would think they would be quite pleased to be rescued but I can tell you they come out pinching lol, probably thinking oh boy out of the fire and into the frying pan, all but one of them were released into our stream as it was a bit smaller and got it's head sucked into a hole, hopefully it's demise was quick and painless.
10/20/2014 - Time flies when your having fun (so they say). We here at Three Springs are into the fall season,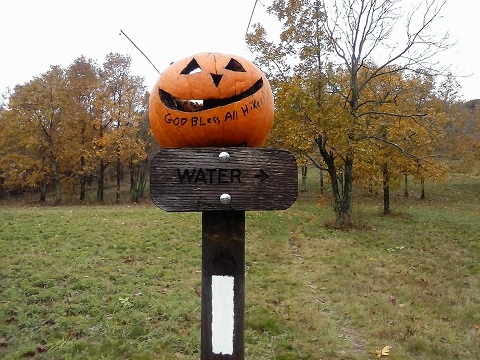 the maples are so beautiful with reds and yellows, the underbrush is dying back so you can see farther through the forest. Halloween is comming and we found this on the Appalachian Trail at Hog Camp Gap. Be careful out there, Bow season is in full swing and there are a lot of hunters in the woods and around the trail with crossbow's this year, the state decided to open crossbows up to the general public instead of only for disabled veterans, crossbows are more dangerous and accurate than compound bows and are pretty equal to other firearms; in my opinion they should be limited to the firearm season. Wear that orange cap or bandana while on the trail now until the 3rd of January when hunting season closes for dear and bear.
10/18/2014 - We had our One Year Celebration on the Farm at Three Springs today, good food and drink for all that ventured out on a cold Saturday afternoon, after an hour we had to move things indoors to continue to visit with our neighbors, as we've been so busy whipping the farm into shape and trying to get our garden completed. I was not able to finish the garden enclosure this year as life generaly takes a lot of time away from my busy schedule on the farm.
9/2/2014 - SOBO Season is about to start and we here at Three Springs are so looking forward to hearing all the stories from up north.
8/9/2014 - August is here, Arrow's birthday looms and we have found some black bear scat in the yard, probably from the cub we saw on March 31st. The deer are so graceful to watch and we had a red tailed hawk fishing in our pond lately. We have caught and released 7 brook trout from our pond, they are so pretty and do put up a fight.
5/31/2014 - End of the month for May and moving into June and summer is almost here. Fish are jumping every morning and evening, we saw one wild turkey and a turtle this month.
5/1/2014 - We have been blessed with meeting some of the most interesting and joyous people I have ever encountered. So far we have met 11 through hikers and 3 section hikers working their way to completing a very long and arduous task.
3/31/2014 - Oma's birthday was a hit, the good lord ordered up a dancing bear. Out in the yard we were lucky to see a black bear cub dancing around our garden shed.
3/20/2014 - Spring is here, and the Sun is out. So glad that winter has past.
2/17/2014 - We had a wonderfull bit of snow fall onto the mountains. 18 inches of the light and fluffy white stuff, so we created our own mini Sochi out on the side of the pond. We had 2 sled runs that were a whole lot of fun, some folkes got their car stuck trying to go up the fire road to Hog Camp Gap, after the gang here at Three Springs dug them out of the 18" of snow on the road they stopped in for some wintery onlympics, seeing how far we could get sliding to the road. They couple that got stuck won the events and it was oddly enough her birthday. Expecting another 1-2 inches over night on Washington's Birthday. Yet another bit of snow fell last night, High winds like I've not felt here yet kinda freeked us out a bit, what with snow dropping of the roofs of all the buildings. Woke up on Tuesday and had some Ice Cycles boy were they tasty, a bit of walk down memory lane there as I used to eat them when I was knee high to a grasshopper. Alls well here, and were expecting to be open when the hiking season starts this year.
---
10/18/2013 - EST. Three Springs Hostel